Project Spotlight: Upper Road All-American Estate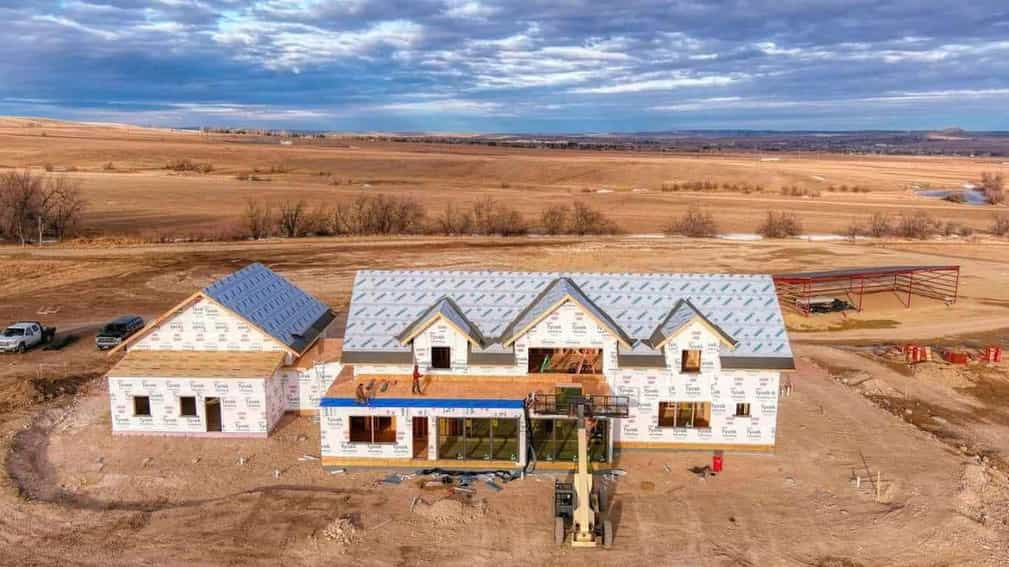 Welcome to Upper Road! Today, we're thrilled to shine a spotlight on one of our recent projects that truly captures the spirit of the Old West. It's a grand endeavor, featuring not one but two splendid houses and a pair of majestic barns. Our clients, drawn to us through a trusted referral, sought a unique blend of country charm, ranch aesthetics, and low-maintenance living. First Choice Builders were thrilled to be trusted partners in wrangling those desires and bringing them to life magnificently!
Old West, New Homestead
When we think of this project, we imagine an old white farmhouse and barn, weathered by time and history, set against the backdrop of the wild frontier. It's a place where families can gather, where stories are shared, and where the cowboy spirit lives on. This modern space balances historic charm with state-of-the-art construction methods and design for a fantastic effect.
Barns that Work
Let's start with the barn, a real eye-catcher on the property. While it may be brand new, we've given every structure here a touch of weathered nostalgia by adorning it with reclaimed barn wood. This humble touch evokes the days of yore when ranchers tamed the land. It stands tall and proud, ready to serve as a mighty workspace for all the upcoming farming needs on this estate.
Porch Perfection
Now, let's mosey on over to the main attraction—the 5,200 square feet ranch farmhouse that'll offer cozy and homey vibes from the get-go. This beauty boasts high-end custom features throughout. Clad in white James Hardie siding with dark contrasting trim around the windows, doors, and dark wood square porch columns, this house is a sight to behold. It sits upon a foundation that's decked out with stone veneer, giving it the illusion of a sturdy, well-worn rancher's abode with a rubble foundation.
Speaking of the porch, prepare to be captivated by the covered, wrap-around masterpiece that stretches from the front to the back yard. There's no better place for sipping lemonade and gazing at the wide-open spaces and majestic surrounding mountains. To top it off, we've crafted the porch ceiling with reclaimed wood from Montana Timber Products to offer the authenticity of reclaimed barn wood and the versatility of a waterproof space.
Farmhouse for the Ages
Now, let's step inside this treasure trove of Western comfort. As you enter the spacious living room, your eyes will be drawn to the centerpiece—a custom stone fireplace that exudes warmth and hospitality. The luxury vinyl plank (LVP) flooring we've selected sits atop radiant heat floors to add a touch of rustic elegance while ensuring durability for the cowboy life. This room is designed for cozy nights by the fire, where stories are shared, and memories are made.
Rustic Kitchen Delight
Moving right along, we enter the heart of the home—the open kitchen. This is where family and friends gather to savor delicious meals and share laughter. The kitchen seamlessly connects to the living room, promoting an open floor plan that encourages togetherness. Interior rugged columns elegantly delineate the dining and living spaces, adding character and authenticity to the design. Our custom wood cabinets, boasting a beautiful pine finish, provide ample storage and a true taste of the Old West. And let's not forget the apron front sink—a timeless feature that's both functional and charming in farmhouse style homes.
All-American, Period.
Throughout this project, we took great care to honor our client's desire for American-made products. We scoured the plains and valleys of the internet to find brands that met this criterion, ensuring that every item we incorporated into this home was proudly Made In America. It was a challenge, but one we gladly accepted to make our client's vision a reality.
First Choice Builders Creates Your Home on the Range
Our recent project is a testament to the power of melding western charm, farmhouse aesthetics, and modern ranch living. From the white James Hardie siding to the rugged columns, granite countertops to the custom wood cabinets, every detail has been carefully selected to create a home that reflects the cowboy spirit while offering the utmost comfort and luxury.
If you're yearning for your own slice of the Old West right here in Sheridan, Wyoming, reach out to First Choice Builders. We're the pioneers of exceptional craftsmanship and the guardians of the cowboy way. We'd be honored to help you wrangle your dreams and build a homestead that would make John Wayne himself tip his hat in approval. Let's connect today!